---
Websites That Work
Building a website's easy
Getting traffic to your website that converts into paying customers is a skill
SEO, PPC, Content, Website & Conversion strategies designed to get you visitors that will convert into paying customers.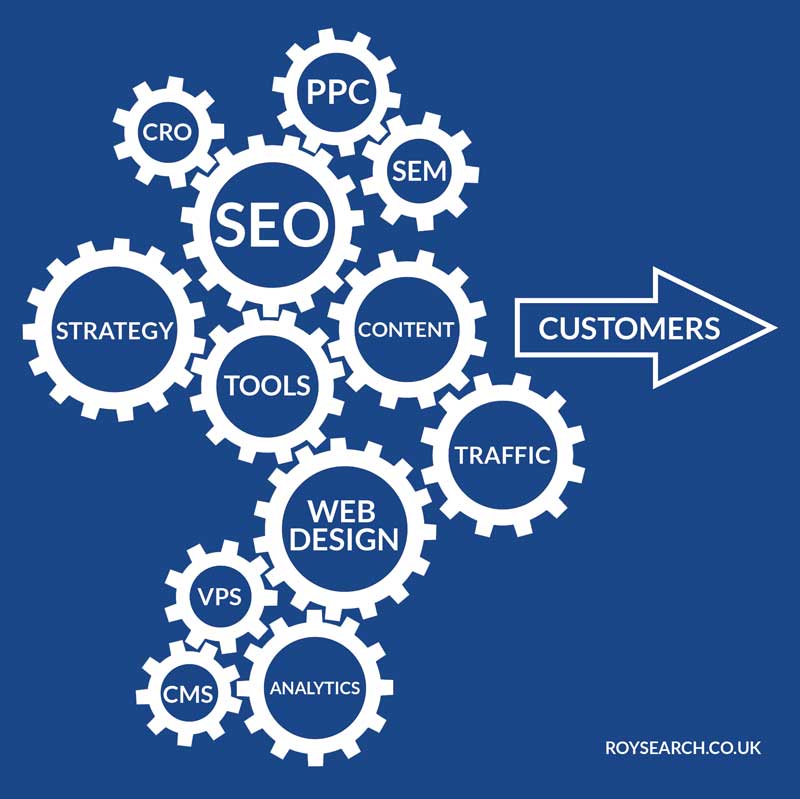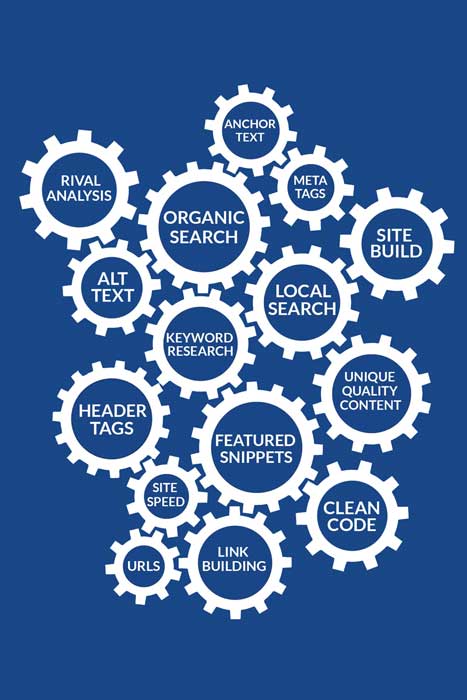 Search Engine Optimisation
Every website is built on SEO principles from the ground up; these strategies can be applied to existing websites also. There are six ways to show up in Google's search results organic, local, metadata, ads, video and directories, so it's possible for your business to show up six times on the first page of Google. The goal is to get your website to show in as many of these results as possible.
Keyword research's undertaken at the very beginning to build a picture of the searcher and create relevant SEO friendly content geared towards getting the searcher to your site and converting them into a paying customer.
The next step is to optimise the website making sure the codes clean and crawlable with no errors; the pages have the correct titles, meta descriptions, headings etc. Your site will have clean easy to use navigation along with internal linking and quality backlinks acquired from link building.
Local SEO's included so people in your area can easily find you, your business will show in Google My Business, Google Maps, Bing Places, Apple Maps and a host of relevant online directories.
A customised SEO Strategy will go a long way in ranking your website, and if you want to take it further a long term SEO plan's devised to increase your rankings over time.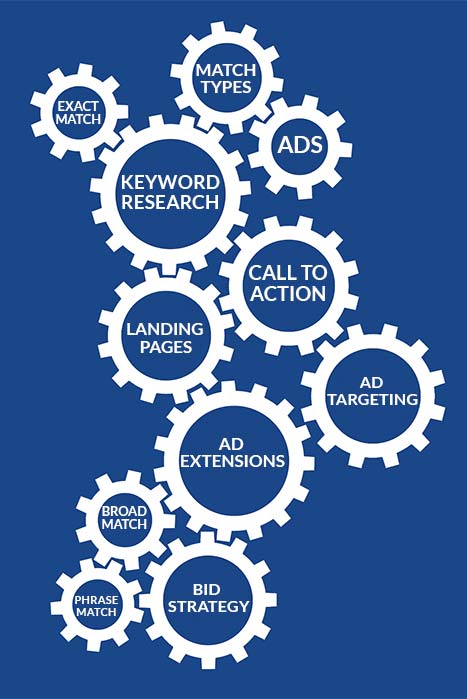 Google Ads & PPC
Google Ads and other forms of pay per click (PPC) advertising get customers to your website instantly by showing your ads in the search engines and across a network of websites relevant to your business and location.
Smart businesses run PPC alongside SEO campaigns, so they show up in both the organic results and the ads section of a search engine results page.
Google Ads allows you to carefully target audiences that are looking for the services and products you offer. The best thing about Google Ads is that you only pay when a targeted searcher clicks on your ad and's taken to your website.
The barrier to entry is low; you can get started for as little as £1 a day. Used properly, Google Ads is one of the most powerful methods to generate new business. Unfortunately, it's also easy to waste money when set-up incorrectly.
A successful PPC campaign first requires the understanding of the searcher, buying funnel, keywords, phrases, bid strategies, ad copy, landing pages and more. Analysing data over time ensures your account's optimised to full effect.
Google Ads/PPC management's available with regular reporting so you can keep a close eye on your return on investment (ROI) campaigns are set up, so your ad spends only used on relevant searches by relevant searchers who you can convert into customers.
Content Writing
Quality content's the most important element of any website content needs rank well in the search engines and convert your visitors into paying customers.
Good quality content is the cornerstone of any serious Website, SEO or PPC campaign.
Content that ranks well and converts customers
Contains relevant (to your business and location) keywords, phrases and niche vocabulary
Is unique and easy to read
Encourages the visitor to take action (for example make a booking)
Is better than your competitors
SEO friendly content's written for you, or you can write your own content (after all you know your business better than anyone else) your content's then edited to make it SEO friendly.
Relevant keywords, phrases and niche vocabulary's written into unique and easy to read content that's optimised to rank well in the search engines. Content's made better than your competitors, so you have a better chance of ranking higher.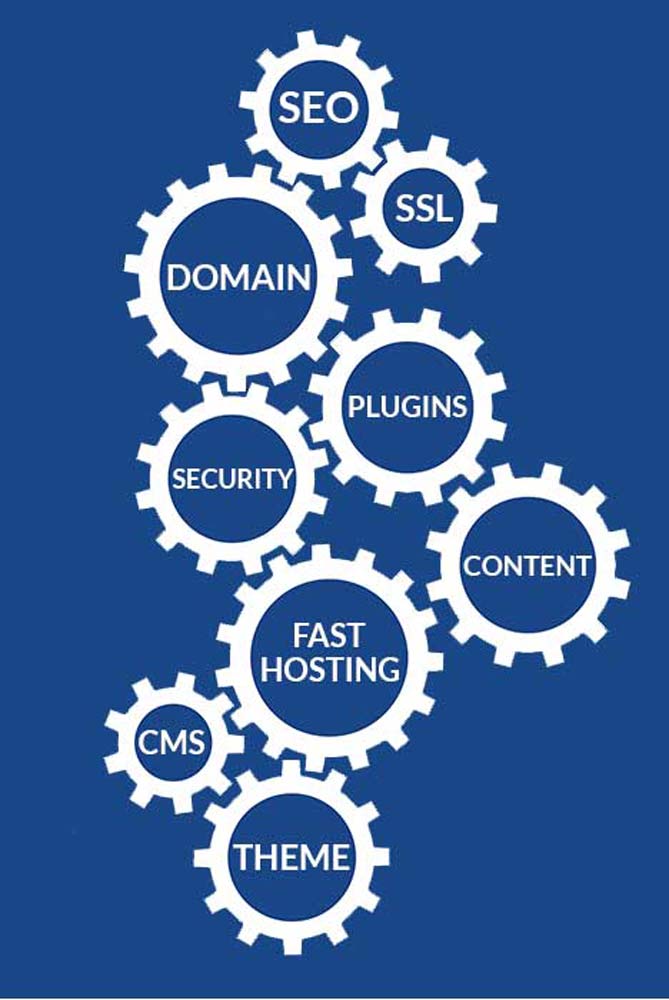 Web Design
A content management system (CMS) is used to build your website and manage your content, most sites here are built using WordPress the most commonly used CMS system that powers around 27% of the whole internet. Using WordPress ensures you can add your content and make adjustments yourself without the help of a developer (or if you prefer content and adjustments can be done for you)
A solid foundation's essential for a serious website that makes money. All Websites are fast and built on reliable hosting that never goes down or takes to long to load (your website will always load within 2 seconds). Websites are 100% secure, adhere to GDPR law, are mobile friendly and will work on any screen size.
You might have a design in mind already or seen another website you would like to emulate if not don't worry. There's a wide range of templates available, pick the one you like most as a starting point. The template's styled to the exact look and layout you want with your selected fonts, colours, content and images.
Any features or functions you want are added for example a blog, email sign-up, e-commerce stores, booking forms, Instagram gallery, payment solutions etc.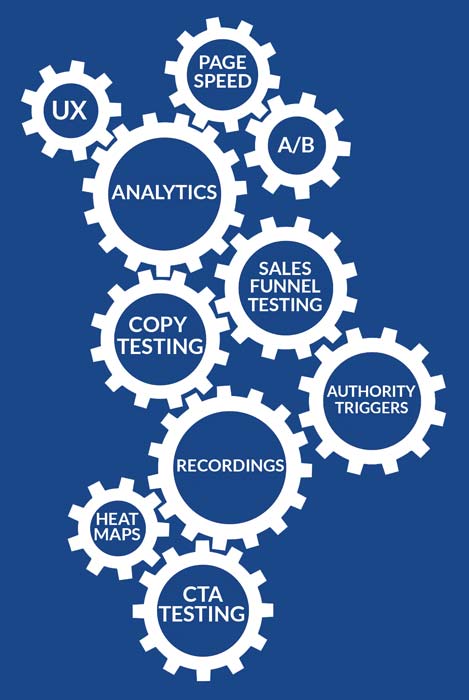 Conversion Rate Optimisation
Metrics collected from your site statistics, Google Analytics, and user behaviour software are regularly analysed, so the right adjustments are made to optimise, improve and get the most from your website, SEO & PPC campaigns.
Users and their behaviour are closely tracked to see how they're interacting with your website and if they're taking the actions you want them to do, with this information we can further tweak your website to improve user to customer conversion, more leads and sales.
Get In Touch
Please use the contact form below to get in touch
(If you haven't received a reply within 24 hours please check your spam folder)