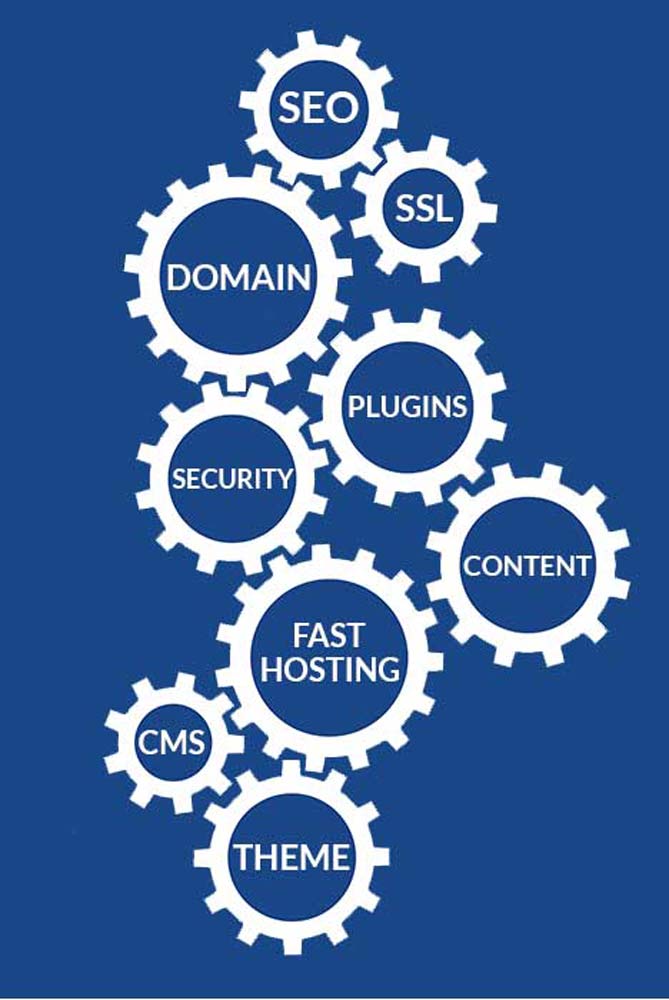 SEO Friendly WebSites That Turn Visitors Into Customers
Web Design services based in Chelmsford, Essex.
Proper website design is made up of many parts. A good looking design is only a small part of web design. Every element needs to work together for your website to get visitors and convert them into paying customers.
Websites Are Built To
Reflect your branding
To give the correct first impression
Rank well in the search engines
Engage visitors and convert them into customers
Work on all devices
Be secure and reliable
How To Build & Run Your Website For Profit
1, Research – Establish the nature of your business, your goals for your website, go through your design specifications. Determine who your new customers are, how to get them to your site, and get them to buy.
2, Web Design & Build – Build a website (or update your existing one) from the ground up to your specifications. The design's tweaked until the site's exactly how you want it.
3, Content – Create Content that'll rank well in the search engines and convert visitors into paying customers
4, SEO – Search Engine Optimisation's built into your site; correct SEO acquires free customers from the search engines.
5, Google Ads/PPC – Set up and run a Pay Per Click campaign to get you instant customers.
6, Analytics – Monitor site, search engine and PPC metrics, adjust as necessary for improved conversions and profits.
Your website's built on a solid foundation that involves
Research
The first step is an initial consultation to learn about your business, the services/products you offer, and your website's goals. This is done over the phone, email or messenger, whatever works best for you.
Your specifications and desired features are discussed. Don't worry if you're not entirely sure what you need or want advice and suggestions available.
Before the design and build process, your customers or, more precisely, searchers are researched. Your website's built around Content using profitable keywords and phrases utilised by search engine users looking for services and products like yours.
Competitor websites are studied and 'crawled' with software to make your site better than your competitors. This research is the first step in building a website to generate targeted traffic that converts into paying customers.
Domain Name
Domain names enable users to access websites easily on the internet without having to remember strings of numbers. The domain name is your websites name and allows a user to type in yourdomainname.co.uk (or .eu .com etc.) and access your website.
A Domain name is the first step when building a new website. You might already have a domain registered or a domain's registered for you.
A Good Domain Name
Is simple while describing your business
Is easy to remember
Is easily spelt without confusion
Will pass the phone test
Reliable Hosting
Your website is made up of files. HTML files, stylesheets (CSS files) images and video etc. A server connected to the internet stores these files; thus, the server 'hosts' your website hence the name 'hosting.'
Your domain name's connected to your server via a domain name server known as DNS. When your domain names are entered into a browser, your website loads. Your hosting needs to be reliable with zero downtime, which regularly happens with cheap shared hosting due to the traffic activities of other businesses sharing the same server. If your servers are down when a user visits, they can't access your website. They'll go elsewhere, and you lose a potential customer.
High-quality VPS hosting's (Virtual Private Server) used for all websites. A VPS uses virtualisation software that divides an individual server into many servers. Each virtual server works independently of the other VPS's, operating just like a networked server at a much lower price, in short.
Your website will always be online.
Your website will always load fast.
Your website needs to load fast people are impatient 53% of people will leave a webpage page if it takes longer than 3 seconds to load, so your website needs to load within 3 seconds any longer, and you're losing customers. Your website will always load within 0-3 seconds by utilising a VPS and various design and SEO methods.
Security
Your website needs to be secure and safe from hackers security is now a requirement for GDPR and search engines. HTTPS secures your site. HTTPS uses traditional HTTP (Hypertext Transfer Protocol) with an added layer of SSL/TLS encryption which verifies that you are communicating only with the server you want to be.
HTTPS ensures that only you and the server can see what's being sent back and forth, so even if a hacker intercepts the information being sent, it's all encrypted, so the hacker won't be able to read the data.
HTTPS makes your website, and all transactions over your site 100% secure encrypting your website with HTTPS requires SSL Certification (Secure Sockets Layer), which establishes the encrypted link between server and browser. SSL certificates are installed on all sites and automatically reissued every 90 days.
Your website will always be safe, secure and legal
CMS – Content Management System
A CMS (content management system) is a software application used to build and manage your website and Content (text, images, video, audio maps and code). A CMS makes it easier to make changes and add Content and features to your website.
Over time you can also make adjustments to your website without the help of a developer. WordPress is the most commonly used content management system and powers around 27% of the whole internet. Joomla and Drupal are other types of CMS.
All content management systems are updated regularly, keeping your website up to date with the latest code, SEO and security requirements. Here WordPress is used to build most websites.
Content Management Systems are used to build and manage all websites
Your website's built with WordPress
You can add Content or make adjustments without a developer
Plug-Ins
Plug-Ins are software applications added to content management systems to provide special features and functions to your website.
Plug-ins include contact forms, email lists, e-commerce stores, booking forms, forums, payment solutions etc.
Plug-Ins are used to add functions & features to your site
Theme
Your theme (template) is the initial design of your site or how your website looks. Themes are a collection of CSS files to achieve your desired look without changing how the software works. Themes are changeable without affecting the critical stuff like Content, navigation and SEO.
Many themes are available that are customised to your taste, so you get the look you want. You can pick a theme as a starting point from many demos. The design's tweaked, changing fonts, colours and layouts until the site looks exactly how you want it to look. Only themes that use clean, concise code based on the latest HTML (HTML5) are used. All themes are fully responsive and mobile-friendly
Themes provide the overall design and feel of your site, layouts, colours, fonts etc.
Themes are fully customisable so we can get the exact look you want
We have a range of Theme templates to choose from as a starting point
All themes use clean code, are fully responsive and mobile-friendly
Content
Once the fundamentals of the website are in place, Content is created for your website.
Get A Free Website Quote
If you're interested in our services and would like more information, please get in touch using the contact form below.
(If you haven't received a reply within 24 hours, please check your spam folder)