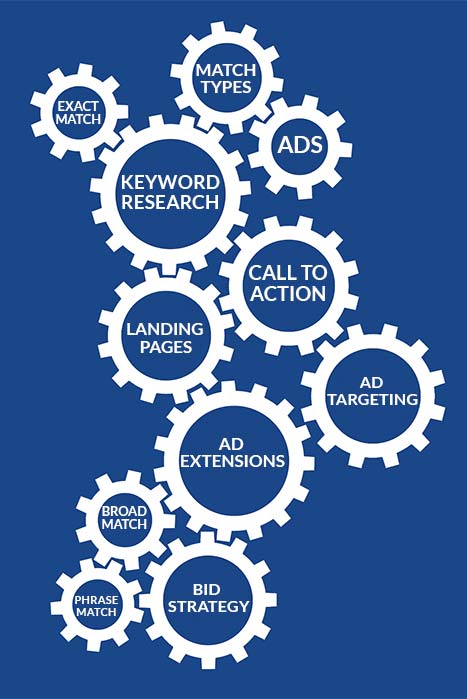 Get Instant Leads & Sales With Google Ads & PPC
Get instant traffic, and customers with managed Google Ads/pay per click advertising based in Chelmsford, Essex.
Pay Per Click Advertising such as Google Ads allows you to get to the top of Google and other search engines immediately.
Unlike SEO which can take some time for your website to rank, PPC ads start showing within 24 hours.
PPC ads are targeted to searchers looking for your services and products and you only pay when a searcher clicks on your ads.
On clicking the ad, the searcher is taken to your webpage or offered your phone number so they can call you.
PPC campaigns start from as little as £1 per day
Have You Tried Google Ads And Found It Didn't Work?
A common complaint from businesses is, "we tried Google Ads, spent lots of money, and it didn't bring in any customers."
Google Ads and other forms of PPC can be highly effective when set up correctly, bringing quality traffic you can convert into customers.
Set up incorrectly, Google Ads can quickly waste lots of money with little to show for your investment.
That's why you need an experienced PPC specialist to handle your PPC advertising.
Roysearch offers affordable PPC management services that ensures correct account set-up and a positive return from your ad spend.
Why Your Business Needs Google Ads
Around 94.8% of UK residents are online
Approximately 81% of the population search online for a product or service each month.
93% use Google as their primary search engine
Google ads offer a vast reach to potential customers through its search engine and search partners
Google Ads is faster than SEO. You can be up and running the same day.
Ads are targeted to searchers interested in your products & services or ready to buy
You only pay when a searcher clicks your ad
Low barrier of entry, You can start from as little as £1 a day
Accurate and in-depth analytics allows ROI measurement and campaign improvement overtime
Will Google Ads/PPC Be Profitable For Your Business?
First of all, we need to work out if Google Ads will be profitable for you. How much can you spend on obtaining each new Customer and remain profitable?
Spending £50 on Google Ads to obtain a new customer who has a lifetime value of £10000 is an excellent return on your investment.
While spending £50 to obtain each Customer who buys your £20 product once is an excellent way to send your business bankrupt.
The very first step before starting a Google Ads campaign is to determine that it will be profitable for your business. We can get a good idea of profitability by looking at existing Google Ads data.
If profit for your business looks likely, we can move forward with a Google Ads campaign. Otherwise, we'll suggest other more suitable methods for your business.
What Google Ads/PPC Involves
All Searches Start With A Question
Searchers looking for your products, services, or business will enter a question into the search engine.
For example, "Florists In Chelmsford" is a question/search.
Searchers expect to see relevant results delivered by the search engine.
We give the searchers what they are looking for in the form of relevant ad copy and landing pages once they have clicked your ad.
Keywords
Keywords are the words and phrases typed in by searchers to find your products, services or business.
"Florists", "Florists Near Me", and "Florists In Chelmsford" are keyword examples.
Keywords relevant to your products, services or business are selected to trigger your ads.
Whenever a searcher types in a relevant keyword, or variation your ad is shown.
It's imperative the right keywords and variations are picked, "Florists In Chelmsford" is a good keyword if you run a florist in Chelmsford, but no use if you run a garage in Chelmsford.
A keyword isn't a keyword. Some have a high search volume (the average monthly number of people undertaking the search in the area), while others have meagre (if any) search volume.
Some keywords will provide a phenomenal conversion rate and ROI, while others will provide none, wasting your budget.
Thorough keyword research is undertaken at the start of each campaign then monitored and adjusted accordingly as the campaigns run.
Over time new valuable keywords are uncovered and added to the campaign by analysing the terms used by searchers to trigger your ads.
Correct keyword research ensures the most profitable keywords are used for your Google ads campaign maximising your return on ad spend.
Match Types
Correct Match Type settings are vital.
Incorrect Match Type settings are the primary reason businesses try Google ads, get no return, and conclude it doesn't work.
The match type determines whether your ad is shown to a searcher based on their query.
There are three Match Types
Broad Match
Broad Match is the default setting in Google Ads. Therefore, searches that are broadly related to your keywords will trigger your ads, which can lead to many irrelevant (to your business) search terms and clicks.
For example, an ad including the keywoChelmsfordts in chelmsford" will be triggered by search terms 'flowers' 'flowers online' and 'how much do florists earn.'
Phrase Match
Phrase Match keywords trigger ads when a searcher includes the keyword or close variants of the keyword in their search.
An ad with the keyword 'florists in Chelmsford will be triggered by 'florists in Chelmsford 'best florists in Chelmsford and 'cheap florists in Chelmsford.
Exact Match
Exact match keywords will only be triggered by the exact search term or very close variants. So an ad with the keyword 'florists in Chelmsford will only be triggered by 'florists in Chelmsford, a florist in Chelmsford or 'florists in Chelmsford.
Exact match keywords target ads closely to searchers queries and reduce ad spend waste.
Ads
Compelling ads are written to produce results for your business, bringing the correct searchers (usually those you can convert to customers) to your website.
The best ads reflect the searcher's query while being relevant to your keywords.
Specific keywords are set to trigger relevant ads.
Headlines match the searcher's query while captivating to ensure the ad stands out and has a better chance of being clicked.
Where possible emotional triggers are included in the headline or ad copy
Ad copy will include features and benefits of your product/service and other relevant or helpful information to the searcher's query.
Competitor ads are analysed, so unique propositions are included within the ad copy to encourage the searcher to click on your ad rather than your competitors.
Calls to action prompt the searcher to click your ad or execute the specified action once on your landing page.
Ads are written to follow Googles guidelines, so they don't get disapproved.
Ad Extensions
The best Google Ads include extensions which are additional information, features and links on your ad.
Extensions make your ad stand out, increase clickthrough rate, quality score and ad rank.
Ad Extensions Include
Sitelink – Extra links to other pages within your website
Call Out – Additional information about your products, services and business
Structured Snippets – Provides furthermore defined information about your products, services and business
Image – Images inclusion such as the product is possible within ads to further entice a clickthrough
Call – Add phone numbers to your ads so searchers can click and call you directly from the search results.
Lead Form – Give users the option of submitting their information such as email and phone number via your ad.
Location – Shows searchers your address and location within the ad
Affiliate Location – Shows searchers al retailers your products & services are available at
Price – Show multiple prices of your services and products so that searchers can click through to dedicated landing pages.
App – Allow tablet and mobile searchers to access your app (if your business has one) via the ad.
Promotion – Displays a prominent price tag with a promotion such as a discount.
Landing Pages
Once a searcher clicks an ad, they are taken to a landing page.
Landing pages that give the best chance of converting searchers into buyers are created.
A common mistake businesses make when trying Google ads for the first time is sending all searchers to their homepage, which most of the time isn't the best place to send a searcher.
Sending searchers to the homepage for all keywords and ads is also why businesses waste money trying Google Ads.
Engage The Searcher
When a searcher clicks an ad and lands on a page, you only have a few seconds to engage them and keep them on the page.
Once a searcher is engaged, they are prompted to take action such as phone you, email you or sign-up for your newsletter.
Fast Loading Website & Landing Pages
The first step is to ensure your website and landing pages load fast. Searchers want their answers now, not in a few seconds.
With each second your site takes to load, the chances of the searcher hitting the back button increase.
If the searcher hits the back button because your site takes too long to load, you have wasted money on a click.
Your website and all landing pages are checked for loading times before running a Google ads campaign.
If the pages are too slow, adjustments are made, so they load faster.
Answer The Searchers Question
Once the searcher has landed on your website, the next step is to answer their question, so the searcher knows they are in the right place and they don't click the back button.
Your landing page must reflect your ad copy with a headline relevant to the search.
For example, A search for 'mothers day flowers' must end up on a 'mothers day flowers' (or close variant) landing page to give you the best chance of converting the searcher into a customer.
Sending the searcher to the homepage can work (depending on the keywords) but a targeted page matched to the searcher's question gives you a much better chance of converting the search into a sale.
Show Trustworthiness
Once the searcher's question has been answered, the searcher needs to know they can trust you.
A valid SSL certificate is a must to show your site is secure. Most browsers will display a warning if a valid SSL certificate isn't present. In addition, secure websites show a padlock icon in the browser.
Accreditation badges, credentials and ratings such as your Trustpilot Google My Business ratings go a long way in getting a searcher to trust you.
All are placed above the fold, so they are one of the first features of the page seen.
Once the searcher knows they can trust your website and your business, they will likely dig deeper by reading your page content.
Page Content
Content for Google ads has to provide all the information upfront fulfilling the searcher's needs while conveying the features and benefits of your product, services or business.
Searchers don't want to look for information such as the cost of the product/service, the time it takes to quote, order, fulfil, shipping costs etc.
All relevant information the searcher will likely want is included in the page copy.
The content must also prompt the searcher to take the 'call to action.'
Call To Action
A clear call to action is placed on the landing page, usually at the top of the page, within and at the end of the content.
The call to action will usually be
Buy Now
Please call us
Please email us
Fill out a form for a free quote
Sign Up for our mailing list
Find out more (links to another webpage on your site)
The Call To Action is made as easy as possible for the searcher to find and execute,
For example, click to call phone numbers, so the user doesn't have to type the phone number into their device. Precise, simple forms with as few fields as possible, non-daunting fast and easy to complete.
Call To Action In Ads
To ensure the right searchers come to your site, it's a good idea to include the call to action on your landing page within the ad copy itself.
This prevents searchers who don't want to complete the call to action from clicking through and wasting ad budget (you only want searchers you can convert, unless your primary goal is brand awareness)
This encourages searchers to complete the action when they get to your website, improving conversions and ROI.
Ad Targeting
Google Ads campaigns are targeted geographically, ensuring your ads are shown in the right areas to searchers who will buy your products or services.
Showing your ads nationwide when you run a beauty salon in Chelmsford will quickly waste your ad budget with little to nothing to show for it.
Likewise, running an eCommerce store and showing your ads globally when you only serve the UK will have the same effect.
All ads are shown in the correct locations relevant to your business.
We can further show ads to audiences of specific age ranges, gender and household income.
Correct targeting ensures the right searchers see and click on your ads.
Bid Strategies
Once the keywords, ads, landing pages and settings are in place, the next task is to devise a profitable bid strategy.
All keywords are set with a 'max cost per click', the maximum you're prepared to pay for each click for a particular keyword or all keywords within an ad group.
Google puts your bid into an auction for ad space, it's often the highest bidder who gets shown at the top, but other factors are in play, such as ad copy, relevance and quality score.
While Google Ads sets automated bidding as the default, we prefer manual bidding strategies.
Automated bidding is limited and can lead to ads being shown to searchers outside of your target audience.
Manual bidding ensures more significant control of who sees your ads and how much you spend. It's more time-consuming but ensures the correct bids for each keyword/ad group, and less ad spend waste.
At the start of the campaign, all bids are set manually and run. After that, the campaigns are closely monitored and adjusted to improve ad positioning, click-through rates, ad quality score, ad spend, etc.
Analytics
Your Google Ads account and website are connected to google analytics. We then closely monitor user behaviour on your website. Heatmaps and recordings of user behaviour are a possibility also.
We use gathered information on user behaviour to improve your web pages and ensure an even better conversion rate. See Conversion Rate Optimisation for more details.
Get A Free Proposal & Quote For Your Google Ads/PPC Set Up & Management
We have gone through the basic principles of setting up and running Google Ads/PPC campaigns. However, we have only scratched the surface a lot more is possible with Google Ads and other forms of pay per click advertising.
If you're interested in our services and would like more information, please get in touch using the contact form below.
(If you haven't received a reply within 24 hours please check your spam folder)