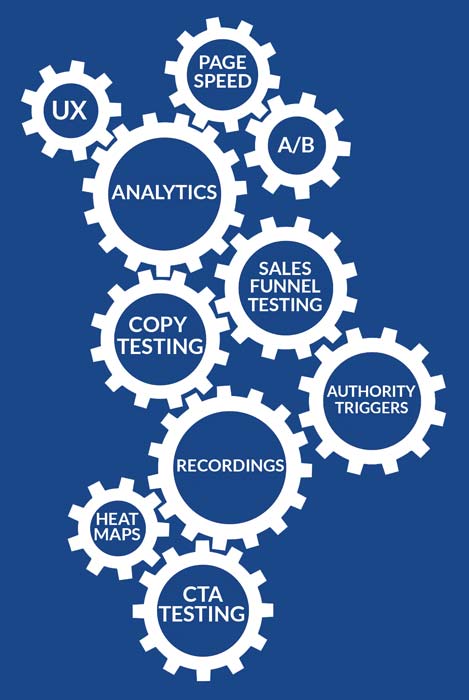 Convert More Visitors Into Customers With Conversion Rate Optimisation
Conversion Rate Optimisation (CRO) is the art of increasing the leads and sales generated from your website.
CRO is one of the most neglected but most important aspects of running a website for profit.
Many websites are falling short when it comes to getting the most leads and sales from their visitors.
CRO monitors, tests, and adjusts exercises that identify and eliminate 'conversion blocks' resulting in increased leads and customers.
CRO is available for new and existing websites
Measuring Conversion Rate
The first step is to measure your existing conversion rate using this simple formula.
Conversions/Number Of Visitors
For example, if you had 5000 visitors in a month and made 100 sales, your conversion rate is 2%.
What's Already Working?
Once we have established your current conversion rate, the next step is to look at your website and the available analytics and determine what's working and what isn't.
Any elements that are working are kept and improved upon
Any elements preventing conversion are removed
Removing Conversion Blocks, The Reasons Why Your Website Doesn't Convert
Conversion Blocks are features (or lack of) that put off or even prevent visitors from taking the desired action, i.e. booking your services, buying your product, signing up for your email list etc.
Here are some common conversion blocks and how to remove them
Lack Of Traffic
The first step is to ensure you get a healthy amount of targeted traffic to your website.
If you have low-quality traffic (visitors who are not interested in your product or services) or little to no targeted visitors (those in the market for your product or services), then all the CRO in the world won't help you.
Make sure you have a plan to gain quality targeted traffic. Use SEO, PPC, Content Marketing, Your Email List, Directories, Social Media and even off-site methods to get visitors to your website.
Slow Loading Times
When it comes to website loading times, you lose visitors with each second that passes.
Make sure your website loads as fast as possible, so your hard-earned visitors don't click the back button before the landing page loads.
Non Responsive
If your website only works on a desktop size screen, then you will waste a large chunk of web traffic, especially as over 50% of searches these days are conducted on mobile devices.
Ensure your website is fully responsive and usable on all devices.
Annoying Pop-Ups
Nearly everyone hates pop-ups, but many websites still use them. Pop-ups never fail to annoy. They also usually request an unrelated action to the search and are unbeneficial to the searcher.
A searcher seeking an emergency plumber will not want to join your mailing list or answer a quick survey.
Eliminate all pop-ups unless they're highly targeted to the landing page beneficial to the visitor and related to their search intent.
Webdesign & Branding First
Many focus on web design and branding first, which is important but often works against them.
While you may love the look of your unique website built by a creative, talented designer, if it doesn't align with your visitors' goals, it won't convert.
You must give your visitors what they want with as little friction as possible.
Lack Of Trust
A visitor to your website needs to know you're trustworthy. If a visitor doesn't trust you, they'll quickly look elsewhere.
Your site should be secure with a valid SSL certificate.
Your credentials should be easy to notice near or at the top of each landing page, not just your home, 'about us' or 'testimonials' page.
Genuine Reviews from sources like Trustpilot and Google My Business (not reviews you or your web developer have added) should be on display also. Don't make visitors look for your credentials and reviews.
Unclear Messaging
When a visitor lands on your page, you must give them everything they want to know upfront.

Unclear and even irrelevant messaging will confuse visitors and prompt them to click the back button.

A clear, concise headline mirroring the visitor's search will prompt them to scroll further.

You can then give them a list of features and benefits of your products or services before providing more in-depth information.

Make sure you include clear pricing, shipping costs and any relevant information the visitor is likely to want, don't make them go to another page for this.
Too Much Choice
Web pages with too many options will overwhelm your visitors. Make sure each web page has a single clear and concise goal, a call to action, not multiple calls to action.
Websites with lots of pages do well to use dynamic menus which serve each category instead of an overloaded mega menu serving the whole website.
Unclear Or No Call To Action
Every web page needs a call to action, such as calling us, email us, buying the product, signing up for our email list, etc.

Make sure your call to action is clear, and the user knows what to do. Add click to call phone numbers, email buttons/contact forms in prominent places on the page, both at the very top and bottom, is a good place to start.

Ensure CTA link and button colours stand out, include clear instructions (such as 'call us' 'email us) and don't blend into standard text, background colours and images.
Challenging To Read Unconvincing Content
You have convinced visitors you have what they want and are trustworthy. Some will execute the call to action others will dig deeper, looking for more information.
Some will scan the written content others will read it, but if it's challenging to scan or read, dull and unconvincing, the visitor may go elsewhere.
Ensure content is easy to read, broken up with headings, lists, images and infographics.
Convey you are an expert in your field and tailor the writing to your audience. For example, only use jargon they will understand as technical words and terms may put them off.
Make sure to include the features and benefits of your service and products and further prompt them to take a call to action within the copy.
Use Writing Tools to ensure your grammar, spelling, tone, and delivery is spot on.
Faulty Contact Methods
If your phone number, forms, or email stops working correctly, your CRO is wasted. Users will find and execute the call to action but you won't be notified, and they'll go somewhere else.
Even if you receive a message from the sender and reply, there's a good chance your email will go to the sender's spam, and they'll miss you.
Email spam filters get more aggressive as time passes. While forms are neat, convenient and great for reducing spam, they are not as reliable as direct email. The main email providers can (and do) block form submissions from websites if they deem them 'suspicious.'
Replying to a direct email sent to your business has far less chance of going to the spam box than if you email a customer for the first time with their email obtained from a form. Therefore, if possible, eliminate forms.
Regularly test all the phone numbers on your site, email and forms while manually checking form submissions in the backend of your website (in case your email provider blocks them). Your spam folder (in case any customer's email has gone there) ensures everything's working as it should.
CRO Monitoring & Testing
Once conversion blocks are removed and improvements are made to your website, the next step is to install software that tracks user behaviour.
The software includes Google Analytics, Heatmaps and Recordings.
Google Analytics
Google Analytics tracks users providing valuable metrics such as
Audience – Tells you everything you need to know about your audience, their age, gender, location, devices used etc.
Acquisitions – Your traffic sources such as organic search, direct, referral social and paid
Behaviour – What do your users do once they reach your site, the pages they are viewing, pages they enter and exit on, time on page and lots more
Conversions – Track conversions in Google analytics, such as a purchase, form submission, or click to call phone number.
Each metric has multiple sub-metrics, the relevant of which are selected and used for your CRO
Heat Maps & Recordings
Heatmaps show the elements of your website that are clicked, tapped and scrolled by your users.
Heatmaps are built up over a period of time, so we discover what elements work, what is ignored, what is clicked but perform no actions and points where a user drops off the page.
While heatmaps give an overall picture of what users are doing, recordings allow us to see what's happening on a user to user basis.

We can watch exact recordings of each visit, watching the scrolls, clicks, mouse movements, what's typed in etc.
Once we have a good idea of the strengths and weaknesses of a webpage provided by heatmaps and recordings, adjustments are made, and the page is monitored.
Surveys
Surveys can be conducted on your website or sent to your existing email list. We can find out precisely what your customer base likes (on average) and apply the findings to your website for a better user experience.
Sales Funnel, Copy & Call To Action Testing
Sales copy, and Calls To Action are monitored and tested. The tools will reveal how users are engaging with your content and taking action.
Underperforming areas can have the messaging/tone/CTA adjusted and, where necessary, information added or taken away.
We can even undertake A/B split testing with different landing page versions to determine what works better.
By monitoring your visitor's behaviour and the paths they take through the buying process, we will discover and eliminate any sticking points while making improvements to create a quicker and easier contact/sign-up/buying process.
Using the collected information to optimise the sales funnel, copy, and CTA's will result in more leads and sales.
The End Result
Once the CRO process has been applied to your website, it's left to run. Data's gathered for a few days to a few weeks, depending on how much traffic you have. When enough visitors have been obtained, all the data is analysed, and a report is written showing your conversion rate improvement.

At that point, you may be happy with your increased conversion rate and profit, so your website can be left to run.

Or we could rerun the process and tweak it further to improve your conversion rate even more.
Contact Us
If you would like your website reviewed along with a quote for Conversion Rate Optimisation, please contact us using the form below