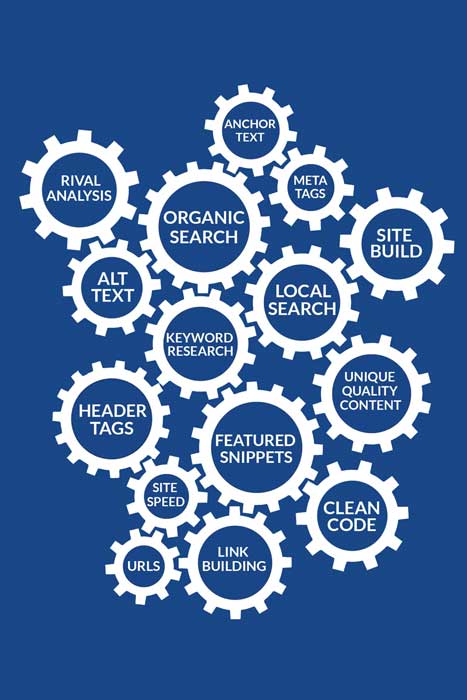 Get More Traffic, Leads & Customers With SEO
SEO Services for new and existing websites based in Chelmsford, Essex.
Search Engine Optimisation (SEO) is the practice of getting your website to rank highly in search engine results for free traffic and customers.
SEO techniques are applied, so your pages appear in the search engine results for profitable search terms.
SEO can (and should) be built on over time to improve your rankings in the search engines. Thus, SEO is a long term ongoing strategy.
All websites built are SEO friendly and ready for the Search Engines. Initial SEO will achieve good rankings on its own, but rankings will improve further with an ongoing SEO plan involving content marketing, link building and regular assessment of analytics data.
The goal of SEO is to get on the first page of the search engines as high as possible for the most lucrative searches related to your business
How To Show Up On The First Page Of Google 5 Times
There are several ways you can show up in the search results.
Organic Search Results
The organic search results are the standard results shown below the 'Ads' section, local businesses and featured snippets (also known as position zero), but sometimes they're displayed right at the top. As a general rule of thumb, the higher up you are in the search results, you'll get more free traffic. Google uses many ranking factors (around 200) to decide who to rank and at what position.
The main ranking factors are
The webpages relevance to the search
The websites authority
Quality of the webpage & website
Local Search Results
Local search results appear for local search terms. Your business will show up on Google maps and the Google My Business section on the first page. Maps have 'pins' showing the location of relevant (to the search) local businesses. Below the map, a list of three local businesses is displayed with a link to more places. You want your business to appear in the top three of this list, achievable with local search optimisation methods.
Google Ads
For most searches, paid ads will show up at the top and bottom of the search results page. A green 'Ad' box next to the green link identifies ads. Paid ads are the quickest and easiest way to get to the top of Google.
To determine ad position, Google uses
Bid amounts
Ad and landing page quality,
Ad rank thresholds,
Search context
Ad extension impact
Third Party Websites
Your business can show up in the search results of third-party websites such as directories, review sites and blogs. Having your business featured on an established third-party website with good authority is an effective method of getting an extra first-page result.
Featured Snippets
Featured Snippets are above the organic rankings on the first page. They're also called 'position zero' results. For example, when a user asks a question, Google may show the answer in a featured snippet box—created from data pulled from the webpage that Google deems most relevant to the question. The featured snippet box contains the page title, a summary of the answer, and a web page link.
What Does SEO Involve?
Good SEO involves many techniques and practices. Here are the basics of SEO
Keyword Research
Successful SEO campaigns start by knowing the searchers who enter keywords phrases and questions into search engines to find businesses like yours. Next, research is undertaken to build a clear picture of the search terms used and searcher intent. Finally, the Content's written incorporating the best keywords, phrases and questions used by searchers looking for the product or service you offer in the areas you cover. Well, researched and written Content gives you the best chance of getting searchers to your site and turning them into paying customers.
Competitor Analysis
Whatever your business, you're going to compete with other businesses in the search engines. Your website, Content, and SEO strategy must be better than your competitors to rank higher (and get more customers). Competiton's analysed by crawling their websites with various tools. Keywords, keyword density, Content, site optimisation, metadata, social media, internal linking, backlinking and other factors are considered. From this analysis, a plan's built to make your website, Content and SEO better than your competitors.
Reliable Hosting
Your website needs to be built on a solid base to succeed in the search engines and serving your customers. The very first step's to ensure your hosting, domain, and security are in order. Proper SEO starts with fast, reliable hosting. If your websites offline too often or are too slow (common occurrences with inadequate hosting), your site will suffer in the search results and lose potential customers and money. Your website will use high-quality VPS hosting, so your website always loads fast and is always online.
Your domain name will use a reliable top-level domain extension with a proven record for ranking well, such as .co.uk .uk .com, or .org. The extension will depend entirely on your situation and whether you're targeting the UK or international audiences.
Secure socket layer (SSL) certificates are installed to make your website secure and safe from hackers, show your visitors you are trustworthy and give you a rankings boost in the search engines.
On-Site SEO
On-site SEO involves optimising every single webpage of your website. The Content (which is visible to the visitor) and behind the scenes HTML source code. The purpose of on-site SEO is to get web pages to rank higher in the search engines and get more visitors, visitors you can convert into paying customers. 'On page' SEO is applied to every website built. Apply these methods to existing websites also to improve their rankings. On-Site SEO is monitored and improved over time to ensure it's as effective as possible.
On-Site SEO includes
Clean Code
Valid codes used to build websites, HTML, Javascript and CSS is regularly checked for errors and corrected when necessary this ensures your site works correctly and can be crawled and ranked correctly by the search engines.
Title Tags
Every page of your website has a title tag that tells the search engines your page's topic. Title tags are also displayed in search engine results (the blue link searchers click on). A good title tag is clear, descriptive and entices searchers to click through and go to your site. Relevant keywords and phrases are used in the title tag.
Meta Descriptions
A meta description is the summary of the Content of a page. Search engines display meta descriptions below the title (the blue link at the top) and a link to your website (the green link below the blue link). Google and other search engines claim meta descriptions don't influence rankings. Meta descriptions are used to encourage searchers to click through to your site; better click-through rates can increase your search engine rankings. Meta descriptions are optimised to encourage searchers to click through to your website, which results in a better click-through rate and more potential customers. Keywords and phrases are used in the meta description when necessary.
Headings and SubHeadings
Headings and subheadings are used to structure sections of your web pages. Headings and subheadings make your pages simple to read, creating a better user experience. Primary headers feature a keyword or phrase. Other keywords and phrases can be used in subheadings when necessary.
Unique Quality Content
Your Content will be relevant to your service and business and targeted towards your audience. The Content will answer your customer's questions and contain the relevant keywords, phrases and niche vocabulary, so each webpage gets ranked for your target search terms, the search terms that your potential customers are entering into the search engines.
Your Content will be better than your competitors. Well written optimised Content gives you the best possible chance of ranking highly in the search engine results.
Duplicate Content
Duplicate Content happens when the same Content appears more than once on a website or the internet. Duplicate Content causes ranking problems and, as a consequence, reduced traffic. Duplicate Content's eliminated, so no problems occur.
Images
Search engines cannot see or read images. Instead, they understand what the image is about by reading the Filenames and Alt text of the image.
File names and Alt text need to be accurate and descriptive so the search engines can determine the image and index it in the search engine results.
Image file sizes can be large, resulting in longer loading times, slowing down your web page images are compressed, making the file size as small as possible, making your web page as fast as possible.
URL's
The URL is the address used in the browser bar. This address connects to your webpage. All URL's are search engine friendly and will contain a keyword or phrase relevant to your webpage.
Anchor Text
Anchor text is the words used in clickable hyperlinks that link to another webpage. Descriptive Anchor text tells the search engines and users where the link takes them. Anchor text is always relevant to keep the search engines and your visitors happy and include keywords and phrases when necessary.
This process ensures the users and search engines know what your website and pages are about — matching your site and pages to relevant keywords and phrases typed in by people into the search engine. As a result, the search engines will reward you for having a relevant, content-rich, optimised site and will send people looking for your service or product to your website.
Site Structure
Site structure is often overlooked but is very important. A well-designed site structure will allow your users to navigate your website easily and provide a great user experience, along with allowing the search engines to crawl your site correctly and rank your pages.
Mobile Friendliness
More and more people are using their smartphones to view web pages. Therefore, a website needs to be mobile and tablet friendly, meaning it's fully responsive and will size up or down to the screen size it's being viewed on while still loading fast and easy to use.
Page Speed
Page speed is an important ranking factor; the faster the webpage loads, the better the user experience. Speedier web pages have lower bounce rates, higher viewing times on pages and better conversions. Various methods are used to ensure pages load as fast as possible.
Link Building
Link building is an 'off-site' SEO method to improve your website's authority, popularity, and trust. When reputable websites link to your site, the search engines will perceive you as trustworthy and relevant, rewarding you with higher rankings.
Links are acquired from
Local Listings (such as Google My Business)
Directory websites relevant to your business
Websites/blogs in your niche
Once the website's built, local listings are created with links back to your website (see local SEO below)
Google Search Console
Once the site's built and all SEO work's completed, your site's linked up with Google search console and a sitemap of your websites submitted, making it easy for Google to crawl your site and index your pages in the search engine results.
Over time, The Search Console gives you insights into how search engines interact with your website, your website's performance in the search engines and will notify you of any errors that may occur.
Google Analytics
Google Analytics gives you insight into how users find and use your website with detailed data on audience, behaviour, demographics, time on site, bounce rate, conversions, devices etc. Data collected is used to improve your website and conversions.
Local SEO
Local SEO involves optimising your local web presence for localised searches. This is done on the content level within your website. Also, more importantly, off-site business profiles are created on Google My Business, Google Maps, Bing Places and Apple Maps so anyone searching for businesses like yours locally can find you. Optimised local business profiles with reviews is an effective off-site SEO tactic that will boost your website's organic search results.
On Going SEO
Your website will rank well by combining the methods above with quality content. Then, once your website goes live, we sit back and let Google and the other search engines rank your website in the search results.
Once the website is ranked and you start pulling in traffic, you have the option of leaving the site SEO static, or you can continually improve your rankings over time with ongoing SEO involving content marketing and link building.
An SEO plan is created, a strategy involving content marketing and link building implemented over time to improve your rankings and visibility in the search engines.
Use Google Ads For Instant Customers
While you're waiting for the search engines to rank your new website, we can get instant customers using Google Ads and other Pay Per Click Advertising methods.
Get A Free SEO Plan Customised To Your Business
If you're interested in SEO and would like more information, or would like a free SEO plan customised to your business please enter your Name, Email, Website URL and any other relevant details into the form below.
(If you haven't received a reply within 24 hours please check your spam folder)