---
Content is arguably the most important factor when it comes to SEO & marketing.
If you want to succeed in obtaining customers online, you're going to need content and a significant amount of it.
Content that is engaging, enticing and that'll convert visitors into customers.
Successful websites use two types of written content.
Longform/Cornerstone content
Blog posts
Long-form/Cornerstone Content
Longform content that ranks well in the search engines informs your customers and sells your product/services.
Blog Posts
Content that helps new customers find you and increases your overall rankings in the search engines.
Longform content creation and blogging are essential for anyone with an online presence.
It's recommended you write your content.
You know your business better than anyone.
But, before you start writing, there's one essential thing you need to know.
Correct Grammar And Spelling Is Essential For Content Creation
Many variables go into creating good content one often overlooked aspect is proper grammar and spelling.
Proper grammar and spelling is essential for content creation.
Neglect Correct Grammar & Spelling At Your Peril
Poor grammar and spelling make your website and business look unprofessional

Visitors won't take you seriously

Visitors are less likely to buy from you

Visitors will hit the back button more (which will hurt your search engine rankings)
You must always ensure your web pages have the best possible grammar and spelling.
How?
Use Grammarly
Grammarly is essential to those writing their content.
If someone else writes your content make sure they use Grammarly.

Using Grammarly ensures your writing will be correct in every single way and look professional.
What is Grammarly?
Grammarly is an easy to use web app that checks grammar spelling and plagiarism and offers writing style tone and vocabulary suggestions.
How To Use Grammarly
Add the app to your browser.
Anytime you write a blog post, piece of content, email or social media post, Grammarly will check the grammar, spelling punctuation, conciseness, formality and vocabulary.
The Grammarly app scans your text as it's written, highlighting any spelling or grammar errors.
You'll find mistakes/alerts underlined in red.

Click and correct mistakes as you are writing
Or
Correct all mistakes when your works finished.
Grammarly Offers Suggestions For
Correctness
Clarity
Engagement
Delivery
When going through your work click on the Grammarly suggestions to make corrections.
It's that easy.
Before Grammarly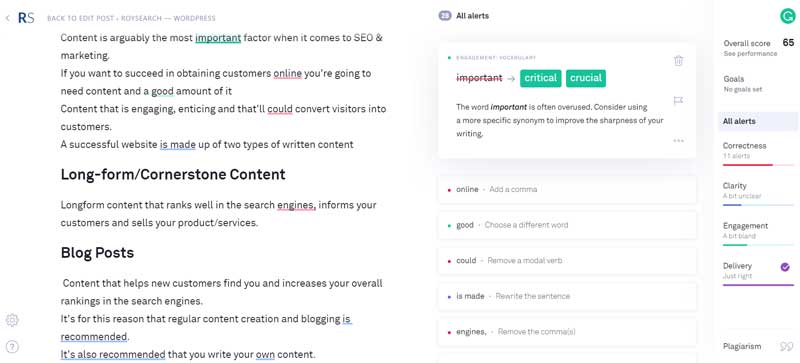 After Grammarly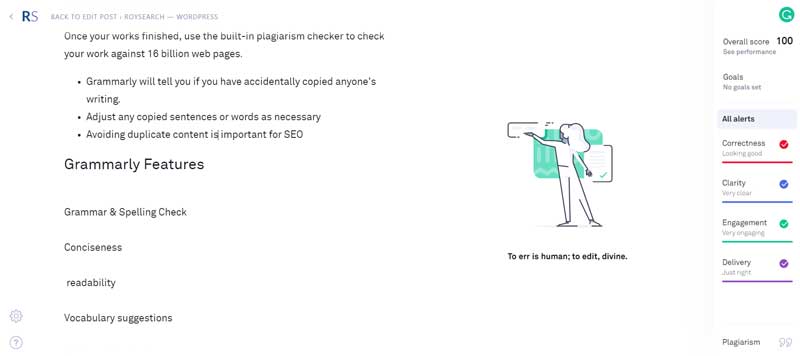 Tone
Grammarly states the tone of your work so you can adjust as necessary to the audience (content) or recipient (emails) before sending or publishing.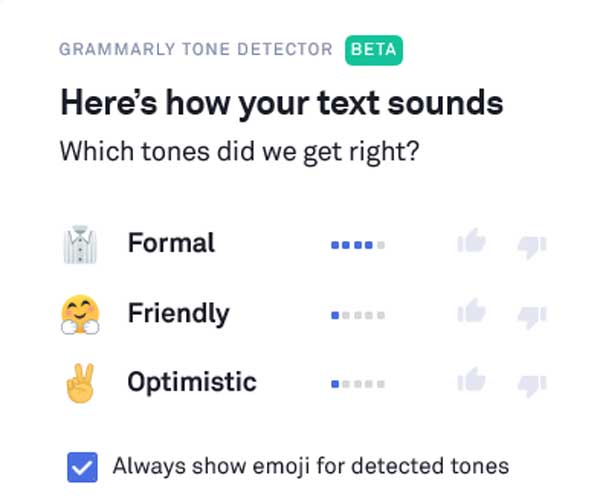 Grammarly Tones Include
Accusatory

Angry
Concerned
Curious
Disapproving
Disheartening
Egocentric
Encouraging

Excited
Forceful
Formal
Informal
Neutral
Optimistic

Regretful
Sad
Surprised
Unassuming
Worried
Plagiarism Checker
Once your works finished, use the built-in plagiarism checker to check your work against 16 billion web pages.
Grammarly will tell you if you have accidentally copied anyone's writing.

Adjust any copied sentences or words as necessary

Avoiding duplicate content is important for SEO
The Plagiarism Check Finds Unoriginal Text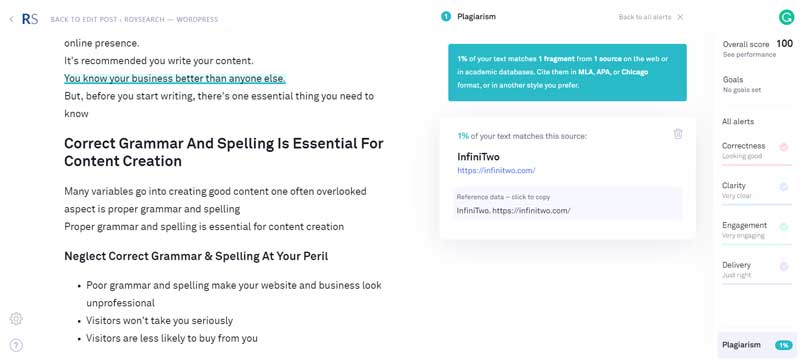 After Adjustments, The Text Is Now 100% Original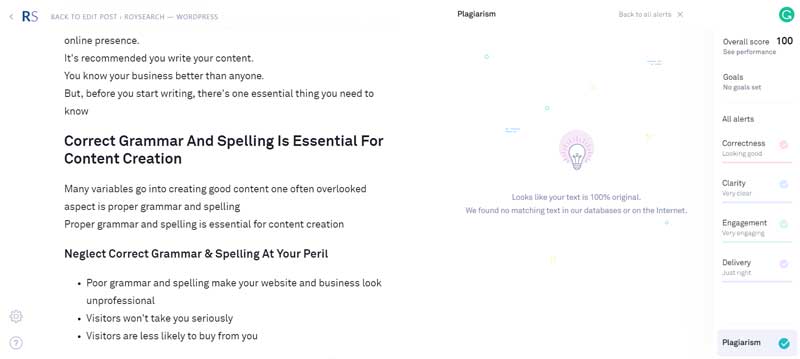 Grammarly Features
Grammar & Spelling Check

Conciseness
Readability
Vocabulary Suggestions
Writing Style Checks

Plagiarism Detector
Compatible With Multiple Devices
Grammarly Works With
WordPress

Microsoft Office
Native desktop apps
Chrome
Firefox
Safari
Google Docs

Facebook
Twitter
LinkedIn
Medium
Try Grammarly
You can try Grammarly for free before subscribing to the premium version (Please note the free version only offers grammar and spelling checking and conciseness).
For all the great features you need the premium version.
Grammarly is very reasonably priced and affordable to all.
Now try The World's Best Grammar Checker and see for yourself.