Grammarly is an essential writing tool, for everyone who writes/types then send's or publishes their work whether it's web content, course work, a job application or emails, internal and external.
Whether you're an SEO & Marketer, Freelancer, Student, Job Seeker, Business Owner or Employee you need Grammarly to ensure your grammar and spelling are correct and professional looking.
Grammarly For SEO & Marketing
Content is arguably the most important factor when it comes to SEO & marketing.
If you want to succeed in obtaining customers online, you're going to need content and a significant amount of it.
Content that is engaging, enticing and that'll convert visitors into customers.
Successful websites use two types of written content.
Longform/Cornerstone content
Blog posts
Long-form/Cornerstone Content
Longform content that ranks well in the search engines informs your customers and sells your product/services.
Blog Posts
Content that helps new customers find you and increases your overall rankings in the search engines.
Longform content creation and blogging are essential for anyone with an online presence.
It's recommended you write your content.
You know your business better than anyone.
But, before you start writing, there's one essential thing you need to know.
Correct Grammar And Spelling Is Essential For Content Creation
Many variables go into creating good content one often overlooked aspect is proper grammar and spelling.
Proper grammar and spelling are essential for content creation.
Neglect Correct Grammar & Spelling At Your Peril
Poor grammar and spelling make your website and business look unprofessional 

Visitors won't take you seriously

Visitors are less likely to buy from you

Visitors will hit the back button more (which will hurt your search engine rankings)
You must always ensure your web pages have the best possible grammar and spelling.
How?
Use Grammarly
Grammarly is essential to those writing their content.
If someone else writes your content, make sure they use Grammarly.

Using Grammarly ensures your writing will be correct in every single way and look professional. 
What is Grammarly?
Grammarly is an easy to use web app that checks grammar spelling and plagiarism and offers writing style tone and vocabulary suggestions.
How To Use Grammarly
Add the app to your browser.
Anytime you write a blog post, piece of content, email or social media post, Grammarly will check the grammar, spelling punctuation, conciseness, formality and vocabulary.
The Grammarly app scans your text as it's written, highlighting any spelling or grammar errors.
You'll find mistakes/alerts underlined in red.

Click and correct mistakes as you are writing.
Or
Correct all mistakes when your works finished.
Grammarly Offers Suggestions For
Correctness
Clarity
Engagement
Delivery
When going through your work, click on the Grammarly suggestions to make corrections.
It's that easy.
In the Grammarly editor, you have the option of
Correcting alerts in order whether they are correctness, clarity, engagement or delivery
Correcting alert type one at a time (correct all correctness alerts, then all clarity alerts and so forth)
Before Grammarly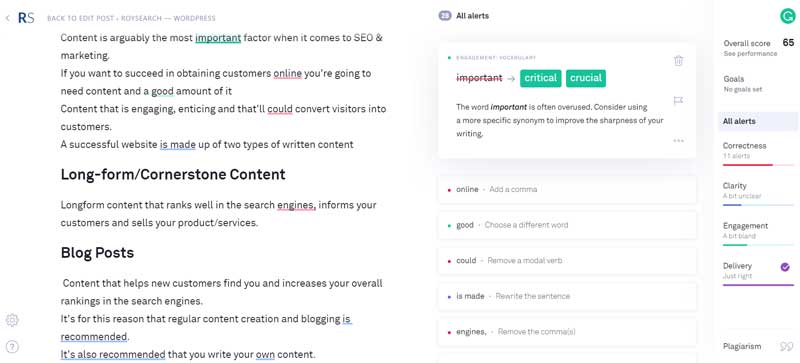 After Grammarly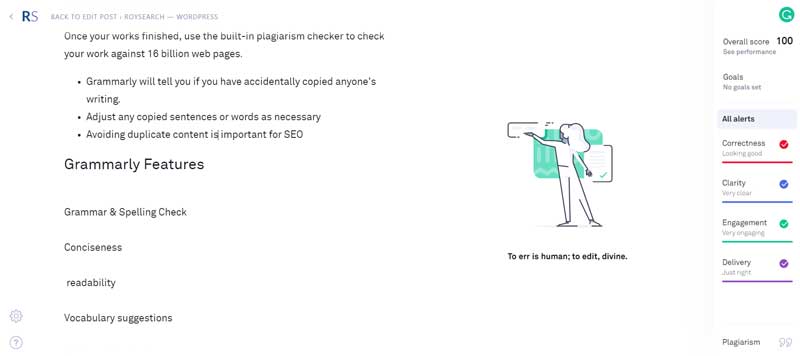 Set Goals
Before you start writing or checking any written text, you can set goals. Writing will differ depending on the audience and writing style. While writers find their unique style suits there work most of the time, sometimes the style must be changed to suit a specific situation.
Not always an easy task, even for the most seasoned of writers. Thankfully the Grammarly Set Goals tool can help you achieve the correct tone and style you need, by offering writing suggestions taking into account the audience, formality, domain, tone and intent.
How To Set Goals In Grammarly
Open up the Grammarly editor and click the goals tab in the right-hand sidebar, a window will open up that looks like this.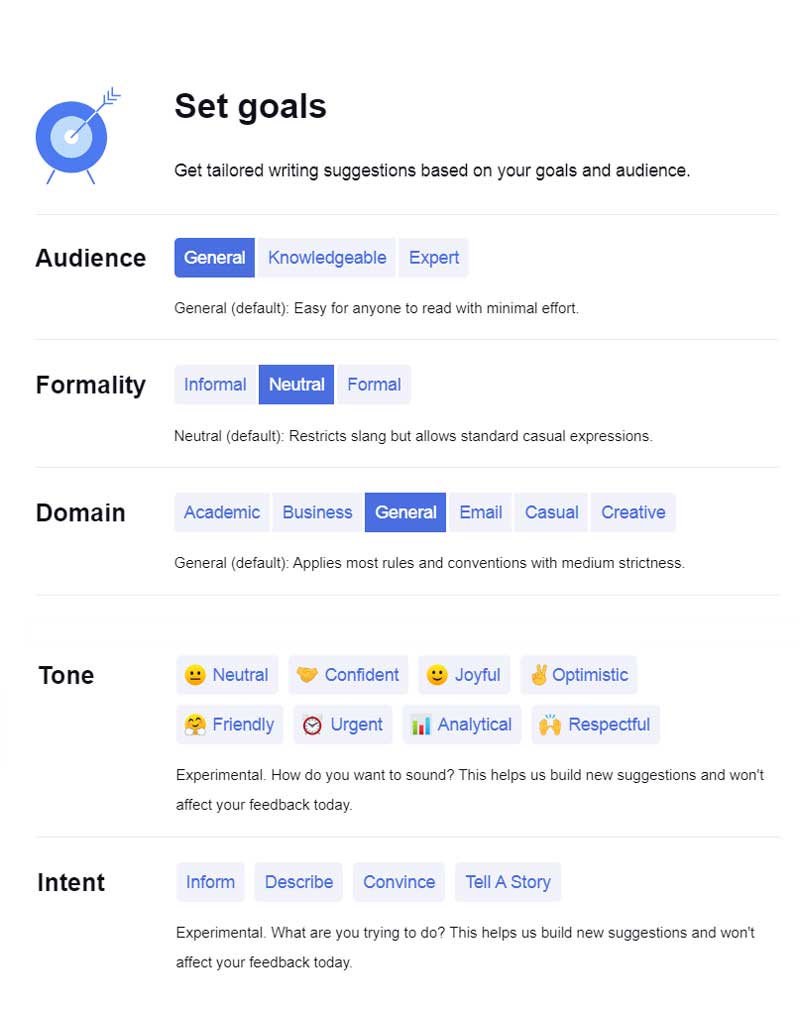 Audience
Setting the audience options allows Grammarly to adjust the readability and clarity accordingly to satisfy your target audience.
The audience has three options
General – Easy for anyone to read with minimal effort
Knowledgeable – Requires focus to read and understand
Expert, – May, require rereading to understand
General
General is the default option when writing web content for people, and the search engines general works in most situations. Use general to write easy to read and scan content that gives your readers the information they want and won't make them click the dreaded back button.
Knowledgable
Use knowledgable for more technical and specialised content, for example, when instructing someone how to do something. Every subject has a niche vocabulary that'll come out naturally when you write (as long as you genuinely know about the subject) this option helps you polish the content to make it more 'expert' looking—a popular option for those writing job application letters.
Expert
Use the expert option for specialised writing where the reader wants in-depth information and won't mind rereading to get the concept. Expert content is perfect for readers who already have a good grasp of what you're writing about and want to learn further, so, in time, they too can become experts.
Formality
How formal or informal will depend on who your writing for and how you want your message to come across
Informal – Allows slang and other more casual usages
Neutral – Restricts slang but allows standard casual expressions
Formal – Restricts slang and colloquialisms
Informal
Informal allows slang which is often used (and desirable) in niche writing directed at certain audiences. For example, if you sell Surfboards, you'll include words like 'backwash', 'close out' and 'rocker' your audience will relate to these terms. Same when sending messages to friends or colleagues (if you work in a casual workplace) you may not want to come across as too formal.
Neutral
Neutral will cut out the slang but allow some casualness. The default option ideal for writing web pages where you want to come across as friendly but don't want to intimidate with the terminology your audience may not quite yet understand.
Formal
When creating content, some situations may require a very formal tone where you don't want any hint of slang or humour. In the workplace, it's generally good practice to communicate politely and formally, slang or informal humour may accidentally upset someone. In this instance, use the formal option.
Domain
What kind of writing are you doing? A blog post for a business website will sound different than a post for a personal blog. Set the domain to establish the correct rules for the type of writing.
Academic – Strictly applies all rules and formal writing conventions.
Business – Applies almost all rules, but allow some informal expressions.
General – Applies most rules and conventions with medium strictness.
Email – Applies almost all rules, plus email writing conventions.
Casual – Applies most rules, but allow stylistic flexibility.
Creative – Allows some intentional bending of rules and conventions.
The six domain options will cover all styles of writing if you're not sure, use the general (default) setting.
Tone
How do you want to sound? use this option to set your target tone
Neutral
Confident
Joyful
Optimistic
Friendly
Urgent
Analytical
Respectful
You can set more than one tone; for instance, you may want to sound urgent and friendly or confident but respectful. For more information, please read the Grammarly tone checker section below.
Intent
What do you intend to do with your writing? Inform your readers about a new product? Describe your services? Convince your audience to buy from you? Or tell a story?
Let Grammarly know your intent. There are four options.
Inform
Describe
Convince
Tell A Story
You may have more than one intent. You may want to inform and convince or describe why telling a story.
Correctness
Grammarly Correctness alerts are marked in red. You'll receive suggestions on
Spelling
Grammar
Punctuation
Here's an example of a correctness alert

Notice the 'you'll' underlined in red Grammarly suggests 'you appear to have independent clauses improperly joined with a comma. Consider correcting the comma splice'.
We have three options for this alert in the green buttons
; you'll
, and you'll
. You'll
Here we choose the correction we want by clicking on one of the green buttons
If you want to learn why the alert was triggered, click the 'learn more' link in the bottom left corner, as you can see there's lots of information regarding independent clauses including correct and incorrect examples.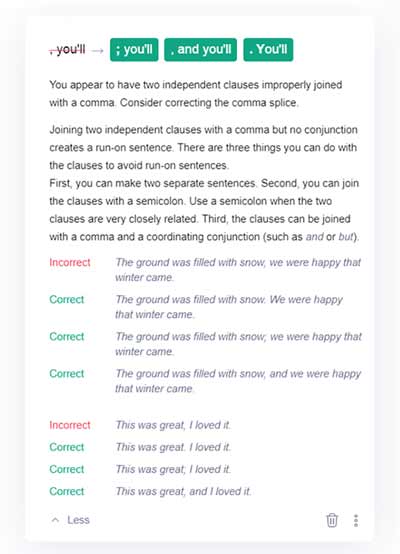 All Grammarly alerts have the learn more feature, use this to learn and improve your writing.
What if we don't want to use this alert? We can delete it by clicking the bin icon in the right-hand corner. Incorrect alerts are reportable, click the three dots to proceed, here you have the option of reporting offensive content also.
Tone
Grammarly states the tone of your work so you can adjust as necessary to the audience (content) or recipient (emails) before sending or publishing.
The Tone checker increases your chances of getting the right message across without being misconstrued.
Pick your tone carefully before hitting the send or publish button, make adjustments until the desired tone's reached.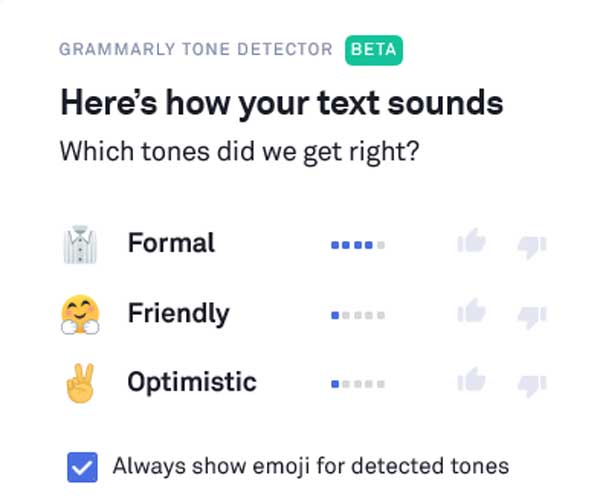 Grammarly Tones Include
Accusatory – Your writing suggests someone has done something wrong or something you disapprove of
Angry – Displeased, annoyed, frustrated or even hostile
Concerned – Worried or anxious
Curious – You want to know something
Disapproving – An unfavourable opinion
Disheartening – Your tone is discouraging
Egocentric – Your writing indicates your self absorbed
Encouraging – Positive, supporting and confident
Excited – Enthusiastic, eager and energetic
Forceful – Assertive, strong and powerful
Formal – Written with convention
Informal – Relaxed, casual and unofficial
Neutral – Impartial, taking no side
Optimistic – Hopeful and confident
Regretful – You're sorry about a past incident
Sad – Unhappy and showing sorrow
Surprised – Astonished and showing wonder
Unassuming – Modest and unpretentious
Worried – Showing concern and anxiety
Plagiarism Checker
Once your works finished, use the built-in plagiarism checker to check your work against 16 billion web pages.
Grammarly will tell you if you have accidentally copied anyone's writing.

Adjust any copied sentences or words as necessary

Avoiding duplicate content is important for SEO 
The Plagiarism Check Finds Unoriginal Text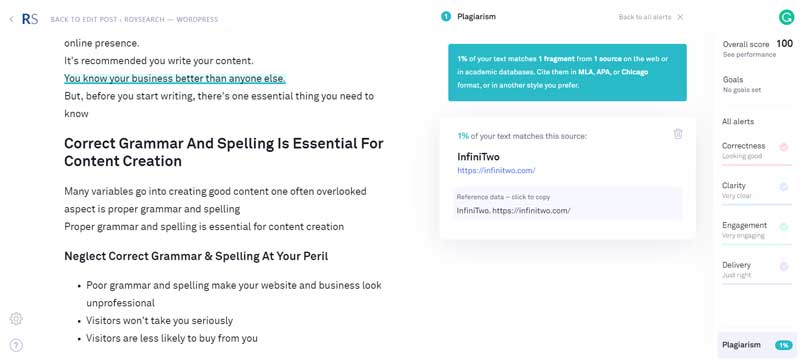 After Adjustments, The Text Is Now 100% Original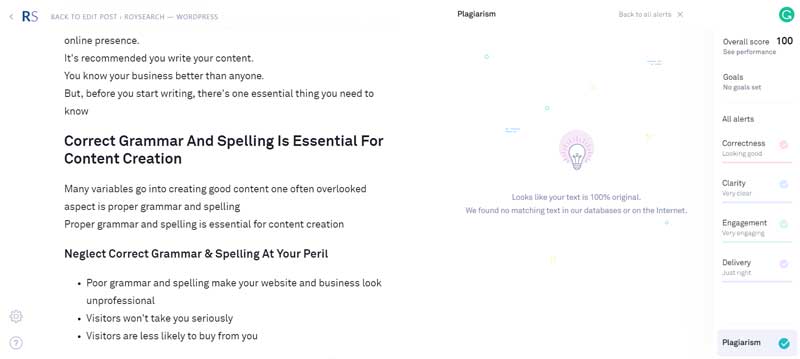 Grammarly Features
Grammar & Spelling Check

Conciseness
Readability
Vocabulary Suggestions

Writing Style Checks

Plagiarism Detector
Compatible With Multiple Devices
Weekly Insights
Grammarly Works With
WordPress

Microsoft Office
Native desktop apps
Chrome
Firefox
Safari

Google Docs

Facebook
Twitter
LinkedIn
Medium
Grammarly Insights
Grammarly offers insights into your writing in the form of a weekly writing update allowing you to monitor your productivity, vocabulary and improvements as a writer.
Here's how an insights report looks.

The weekly report is delivered to your inbox weekly and includes the following.
Grammarly Writing Streak
The Grammarly writing streak shows how many continuous weeks you have written for, a motivator in itself, once you get started you won't want to break the chain.
Grammarly rewards your writing streak with achievements and badges. To earn your badges, you must keep writing. Every achievement's unlocked after 'X' weeks of writing activity. Use Grammarly at least once a week to keep the streak going and the badges coming. If you miss a week you won't lose earnt badges you will, however, start the writing streak again
Grammarly Achievements & Badges
1 Week – Great Expectations
2 Weeks – Heming-Way to Go!
4 Weeks – One-Month Masterpiece
7 Weeks – Tolstoy-Like
12 Weeks – Herculean
16 Weeks – Sweet 16
18 Weeks – Aspiring Philosopher
22 Weeks – Hot Streak
26 Weeks – Half-Year Hero
37 Weeks – Conjurer
41 Weeks – Goal Crusher
52 Weeks – Full-Year Hero
55 Weeks – Dazzling Discourse
61 Weeks – Creative Cosmonaut
75 Weeks – Bardic Soul
81 Weeks – Word Wizard
84 Weeks – 1Q84
92 Weeks – Productivity Pop Star
97 Weeks – Unsinkable
100 Weeks – Centenary Superhero
104 Weeks – Gutenbergian
130 Weeks – Sweet Treat
156 Weeks – Top Dog
157 Weeks – Medal of Participation
182 Weeks – Holy Moley
200 Weeks – Bicentennial Boss
208 Weeks – Writing Legend
220 Weeks – Breakfast Champion
280 – Rare Bird
The writing streak box shows your next achievement and includes a link to see your current achievements and badges, each badge's accompanied by a cool illustration; some have historical references. The weekly report tells you how many weeks until your next badge.
Grammarly Productivity
The productivity box tells you how productive you are, compared to other Grammarly users and the total amount of words checked. The scores calculated by counting the words typed and checked while logged into Grammarly. Your score's artificially inflated if you upload documents or reply to emails using Grammarly.
Grammarly Mastery
The mastery box shows you how accurate you are, compared to other Grammarly users and the number of alerts shown. As your mastery score increases and your alerts drop you recognise your writing is becoming more accurate.
Grammarly Vocabulary
The vocabulary section shows how many more unique words you used compared to other Grammarly users and the total amount of unique words used over the period. Using the same word multiple times only counts as one word in the vocabulary score but will count as multiple words in the productivity score.
Tone Insights
The tone insights are more detailed, very useful if you're focused on changing the style and tone of your writing. The insights show you the top tones used over the previous week, the percentage of tones used and whether the tone usage has increased or decreased. The report shows new tones that have appeared in your writing.
Share Your Scores
Productivity, Mastery, Vocabulary and Tones feature Facebook & Twitter share buttons, impress your followers with your achievements.
Words Checked With Grammarly Overtime
A total score of all the words your Grammarly has checked overtime, includes total words checked last week also.
Top 3 Mistakes
Finally a list of the top 3 mistakes followed by the number of alerts for each mistake. For example, missing periods, a missing comma in a compound sentence and missing article. Each mistake followed by a 'learn more link' find out where you're going wrong to improve your writing.
Try Grammarly
You can try Grammarly for free before subscribing to the premium version (Please note the free version only offers grammar and spelling checking and conciseness).
For all the great features you need the premium version.
Grammarly is very reasonably priced and affordable to all.
Now try The World's Best Grammar Checker and see for yourself.